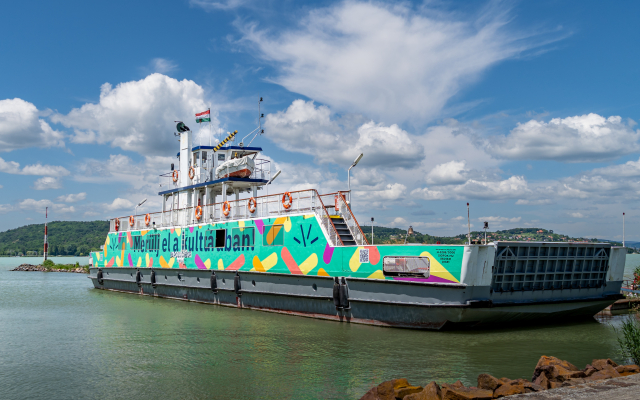 The "Baross" ferrys carrying capacity is 91.7 tons and its passenger capacity is 500 people, its navigation license number is: 1123/2001.
History of the ferry: The ferry called "Baross Gábor" was built in 1976 in the Balatonfüred Factory Unit of MHD for the Hungarian Shipping Company. It is a car transporting engine driven ferryboat. In the spring of 2008, the entire deck and wheelhouse were refurbished, and the boat received some Caterpillar engines.
Length between verticals: 39.50m; Maximum length: 41.30m; Width of the main rib: 10.50m; Maximum width: 10.70m; Side height: 2.80m; Maximum dive: 1.25m; Fixed point height: 6.15m; Engine power: 2 x 230 HP, 2 SKL 6NVD26A-2 diesel engines; 2 pieces of Voith-Scheider propellers.
It is perfect for a unique event venue: it can be a venue for shows or concerts and a unique place for organizing also fancy sporting events.