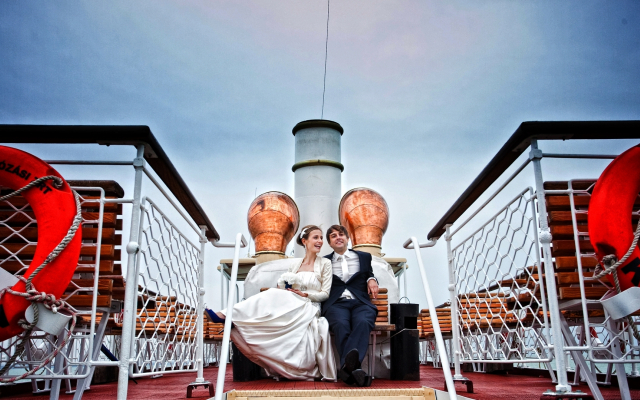 People who wish to get married often choose the shores of Lake Balaton as a backdrop for their never ending memories represented by the taken photographs, since it goes without question: the "Hungarian sea" is truly a miraculous background for these unrepeatable moments. 
However, we wonder if you, as a person to get married, have thought about the fact that this experience can further be enhanced?
Why would you settle for the shores of Lake Balaton when, with the use of a boat, these photographs can be taken in the middle of the lake?
Would you wish to give an unmatchable and unrepeatable experience to the celebrating wedding party?  Would it please you that if your family, or circle of friends, rave about your wedding instead of the stereotyped wedding celebrations?
Do not only say yes to your partner, but to the questions listed above!
Live the feeling connected to your wedding that Balaton Shipping Company wishes to share with you.  We promise that your decision will be just as good as the one that you made when you decided to tie your life together with that of your partner.
Young couples can already express to you what it feels like to say the happy "I Do" during the setting sun, in the middle of Lake Balaton!  We guarantee that it will be unique!
The composition of our own fleet, and the exquisite service offered by our partners guarantee the uniqueness and the unusual location of the most important event of your life.
At your request, our boats depart from any one of 16 docks, so that we can provide a location for your photographs, the civil ceremony, the wedding ceremony, and the following reception. We suggest one of the seriously traditional nostalgia boats for the smaller ceremonies with less guests, while for those ceremonies that have several hundred guests, we suggest a large boat.  Check out our boats, then choose according to your needs!