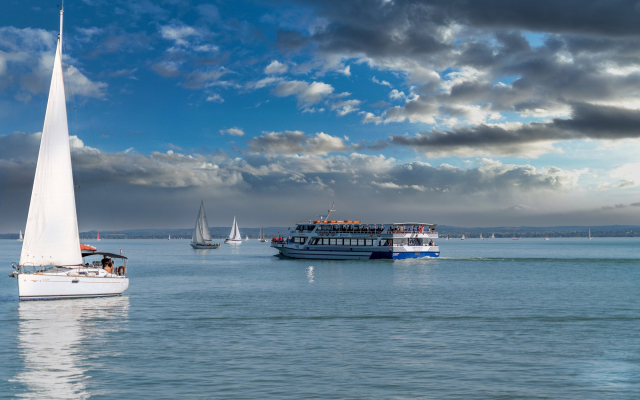 A SHIP will sail you to the experience!
The Balaton Shipping Company plays a connective role in the region's touristic life due to its scheduled boat trips. By the use of the scheduled boats however, not only are we able to participate in pleasant travels, but also we can get to most of the settlements located on the shores of Lake Balaton offering a wonderful experience! Don't forget: A SHIP will sail you to the experience!
We travel along many routes on our scheduled boats, which serve not only those wishing to travel to the southern shores, but to also to those tourists who wish to satisfy their needs on the northern shores, as well. While compiling our schedule, we also took into special consideration the requirements of those wished to comfortably return to their original port of departure subsequent to the completion of their excursion. 
Contrary to traditional public transportation, our passengers enjoy pleasant times on board of our scheduled boats, since reaching the ultimate destination is not the only important factor, since the trip in itself is a memorable, enjoyable and significant part of the outing.  The convenience of our passengers is enhanced by the use of our WI-FI service which is available on board each ship!
Travel conditions
The Company does not accept any liability for changes in water conditions, cancelled trips due to weather conditions, late arrivals, or any liability for missing train or bus connections.

The Company maintains the right to modify prices, timetables, and programmes.

The sailing of pleasure boats and advertised program boats are dependent on adequate passengers, while the regularly scheduled boats are not affected in any way by the number of passengers.

Upon request, we organise trips for groups apart from regular scheduled boats.

Depending on the number of passengers on a boat, we provide the possibility for transporting bicycles.

Only dogs wearing muzzle baskets and on leashes will be allowed on the boats.

The detailed traveling conditions are contained in the business regulations, and are downloadable from the attachment, or can be found at the Company's docks.