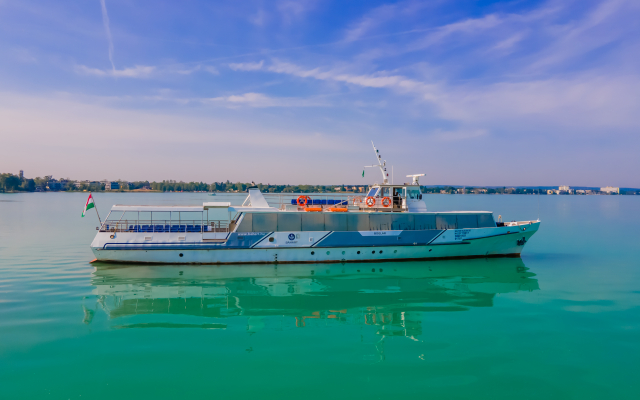 The Boglár ship with its 180-seat passenger capacity is the most modern Russian-type boat of the Balaton Shipping Company, which was completely rebuilt and renewed in 2017. The ship will bear the name for a year of the current winning settlement of the Nemzeti Regatta -National Regatta sailing competition. The modernly furnished boat is one of our best-used event boats.
During the reconstruction and refurbishment, the Balaton Shipping Company applied several novelties, keeping in mind the needs of the traveling public and the travel habits. Thanks to its different design from its sister ships serving on Lake Balaton (Lelle, Földvár, Fonyód), it has a restroom for the disabled, with reduced mobility, it has also wider doors for the same purpose, and the rear open deck with a renewed roof design for more comfortable travel. The Boglár is the second boat with a barrier-free deck on Lake Balaton next to the "Siófok" catamaran.
An open, smaller cabin has been designed on the upper deck of the ship. The upper open deck makes shipping an unforgettable experience in the wonderful panorama of Lake Balaton. On the main deck there is a comfortable, 70 m2 air-conditioned and heated enclosed cabin with big panoramic windows. The color scheme of the interior of the ship is defined by dark blue and light gray. This world of colors evokes the traditional sailing, shipping on Lake Balaton, yet in a contemporary, modern form. On the lower deck there is a buffet with a wide range of drinks.
A special restroom has been set up on board for the disabled. During the renovation, modern sound technology was built into the boat, and WIFI service is also available. There is also a built-in TV in the closed room of the ship.
The sophisticated interior provides an excellent venue for smaller corporate or family gatherings, be it a wedding, birthday, name day, engagement, wedding anniversary, bachelor and hen party, romantic engagement, surprise party, company meeting, team building event, product presentation, workshop or meeting.
Ships most important data:
Passenger capacity: 180 people 

Standing reception: 80 people 

Seated reception: 60 people 

Buffet: in the interior 

Rear deck (covered from above): 50 m2 

Interior cabin on the main deck: 70 m2 

Interior cabin on the lower deck: 16 m2
Available services on board:
Buffet reception

Cold - hot foods, salads, pastries, cakes

Full range of drinks

Organizing of musical and dance programs