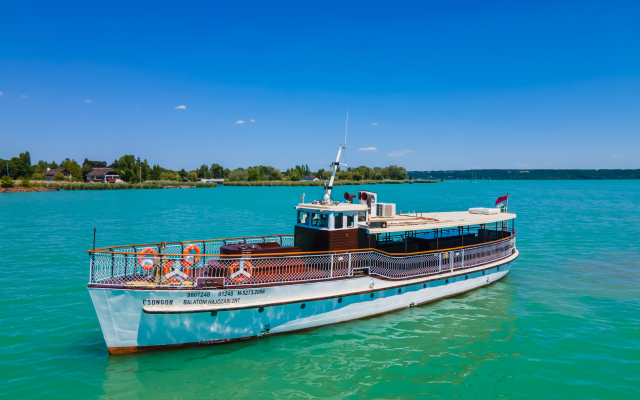 The ship named "Csongor" is an older construction, a smaller luxury boat that radiates the atmosphere of the beginning of the 20th century. The "Csongor" nostalgia ship was built in 1927 in Balatonfüred. The boat at that time had a wooden body and superstructure and was the twin sister of the "Tünde" nostalgia ship. 
In the second World War the retreating German troops blew up and sank the ship in the port of Révfülöp. The ship was lifted in 1946 and repaired. In 1958 the boat received a steel body and a closed passenger compartment at the Balatonfüred Shipyard. As a member of the nostalgia fleet of the Balaton Shipping Company the ship still travels and acquires many lasting memories and experiences for visitors at Lake Balaton. In 2017 it was the 90th birthday celebration of the boat. 
The main deck of the ship is open, in the hull – in case of bad weather - we have arranged a smaller, closed cabin. It awaits its passengers with high-quality passenger service, a drink bar, a card salon and a sun deck.
Wi-Fi service is also available on board.
The sophisticated nostalgia boat provides an excellent venue for smaller corporate or family gatherings, so as birthdays, name days, bachelor or hen parties, romantic engagements, surprise parties, company meetings, small team building events or meetings.
Ships most important data:
Passenger capacity: 40 people

Buffet: yes, there is a buffet on board

Interior cabin on the lower deck: 8.5 m2

Maximum length: 25.54 m

Maximum width: 5.64 m
Available services on board:
Cold cuisine, sandwiches, salads, sweet and salted pastries, cakes

Full range of drinks

Organizing of musical and dance programs