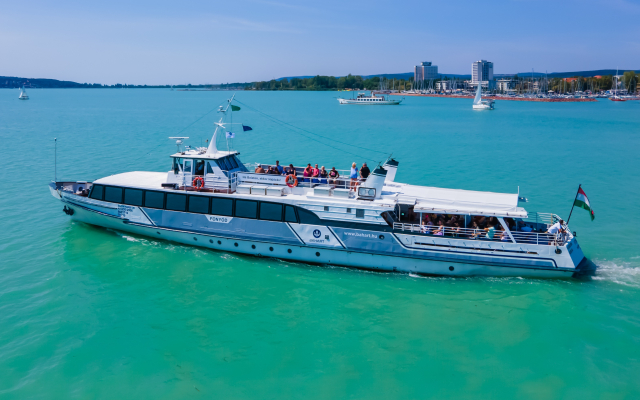 The ship named "Fonyód" is one of the Russian-type boats of our Company, which is excellent for holding smaller events.
The main deck of the ship has a large cabin covered at the front and center with big panoramic windows and an open passenger area at the rear and on the promenade deck.
The hull has a 16-seat, air-conditioned salon and a well-stocked buffet with a bar-counter.
Ships most important data:
Passenger capacity: 180 people

Standing reception: 80 people

Seated reception: 60 people

Buffet: in the interior

Rear deck (covered from above): 50 m2

Interior cabin on the main deck: 70 m2

Interior space on the lower deck: 16 m2

Maximum length: 33.50 m

Maximum width: 5.30 m
Available services on board:
Buffet reception

Cold - hot foods, salads, pastries, cakes

Full range of drinks

Organizing of musical and dance programs