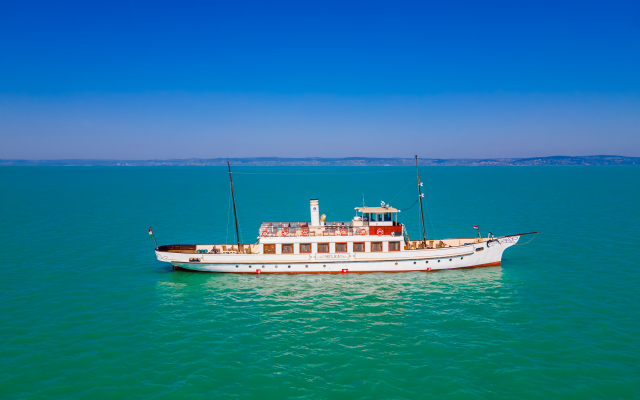 The "Helka" nostalgia boat with its 120 passenger capacity is one of the oldest and most popular nostalgia boats on Lake Balaton. The ship was released to water in June 1891. Helka and her sister ship "Kelén" got their names from the love couple of András Fáy's fairy tale "Sió". Even after several rebuildings and modernizations, the nostalgia ship retained its external design that was typical of the end of the 19th century. The interior design and formworld is evoking the atmosphere of the reform era. The ship celebrated its 130th birthday in 2021.
On the upper deck of the ship an open, smaller cabin has been designed. The upper open deck makes shipping an unforgettable experience in the wonderful panorama of Lake Balaton.
On the main deck two smaller open passenger compartments have been created, in case of bad weather a comfortable closed cabin awaits the travellers. In the hull there is a large, enclosed cabin with a circular sofa and a bar for our passengers. The ship's interior is air conditioned.
Wi-Fi service is also available on board.
The sophisticated interior provides an excellent venue for smaller corporate or family gatherings, be it a wedding, birthday, name day, engagement, wedding anniversary, bachelor and hen party, romantic engagement, surprise party, company meeting, team building event, product presentation, workshop or meeting.
Ships most important data:
Passenger capacity: 120 people

Standing reception - open: 60 people

Seated reception: 26 people

Seated conference: 26 people

Buffet: in the interior

Interior cabin on the main deck: 50 m2

Interior cabin on the lower deck: 37 m2

Maximum length: 35.22 m

Maximum width: 5.28 m
Available services on board:
Buffet reception

Cold - hot foods, salads, pastries, cakes

Full range of drinks

Organizing of musical and dance programs