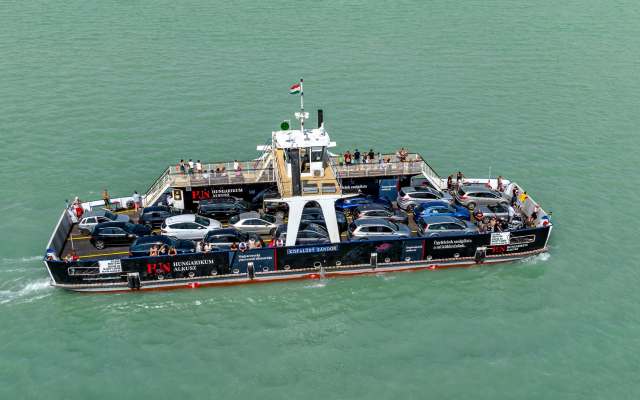 Date / place of construction: The ferry called "Kisfaludy Sándor" was built in 1961 in the MHD Factory Unit in Balatonfüred in Hungary, # 0352.
Original data: Maximum length: (m) 35.54; Length between verticals: (m) 32.37; Width on the main rib: (m) 10.50; Side height: (m) 2.80; Fixed point height: (m) 10.28; Maximum dive: (m) 1.25; Main machine type: 2xLang 6LD200S; 2 pieces of Voith-Schneider propellers; Main engine power: 2x200 HP; Dead water speed: 15 km / h.
In 1975 the main machine was replaced: Main engine type: SKL 6 NVD 26-2; Main engine power: 2x200 HP. In 1985, the superstructure was removed from one side of the ship. A bridge spanning the center of the ship was placed on consoles on this very side. In 2006, the engines were converted for a possible remote controlling.
Ships history: The original name of the ferryboat from 1961 was "Ferry II.", its name has changed in 1969 to "KISFALUDY SÁNDOR".
It is perfect for a unique event venue: it can be a venue for shows or concerts and a unique place for organizing also fancy sporting events.