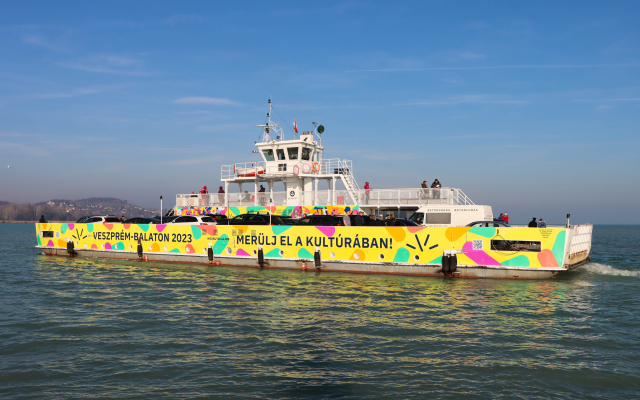 The ferry called "Kossuth Lajos" was built in 1964 in the Balatonfüred Shipyard.
According to the sign on the ship: is the passenger capacity: 500 people and the Load capacity: 129.3 tons. The engines can be controlled remotely from the wheelhouse. From 2004 it also has an inbuilt consumption meter. 2 pieces of SKL 6NVD26A-2 diesel engines are driving the ferryboat. On the crankshaft of the engine towards the gearbox, a special device behind the flywheel acts as an emergency clutch, if for some reason the Voith-Schneider propeller gets stuck, this device breaks the connection between the engine and the gearbox. In 2005, Caterpillar engines were built into the ship. When the "Kossuth" ferry was extended at the Füred shipyard in the 1980s, part of the renovation was funded by the army, resulting is the installation of double-density ribbing (approximately 15 cm per section) below the carriageway, in other words this was the only single ferry suitable for transporting combat vehicles (eg tanks) on Lake Balaton.
In 2017, the Balaton Shipping Company renovated this ferryboat with a new body and cover. That was the time when a separeted and covered area was created suitable for bicycle transport.
It is perfect for a unique event venue: it can be a venue for shows or concerts and a unique place for organizing also fancy sporting events.