Megjelennő cím
SCHEDULED SHIPPING
Megjelenjen a Főoldalon?
Igen
Thumbnail szöveg
A ship will sail you to the experience!
Balaton Shipping Co. plays a connecting role in the tourism life of the region through scheduled shipping. By using our scheduled boats between the settlements, our passengers can not only take part in a pleasant trip, but they can also reach the vast majority of the most enjoyable settlements on the shores of Lake Balaton, as boat brings you to the experience!
Thumbnail kép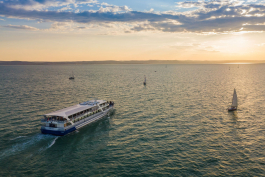 Kártya tovább gomb linkje