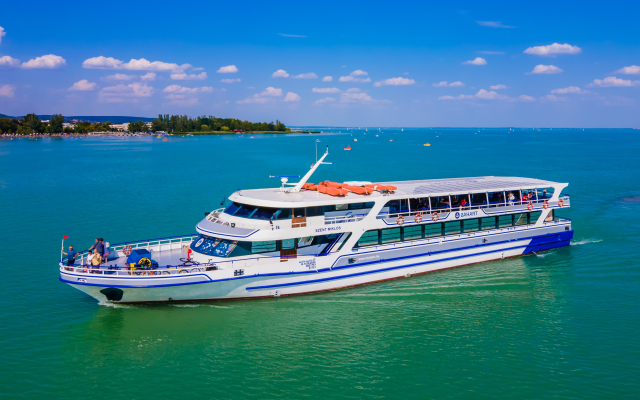 The "Szent Miklós" (St. Nicholas) ship with it's capacity for 550 people on board is the Balaton Shipping Company's largest and technically most equipped ship and also the biggest ship on Lake Balaton.
On the upper deck of the ship there is a large passengers deck, which is spacious, open but covered from above. There we can find also a smaller, enclosed cabin where a buffet was arranged.
On the lower deck there is a large, comfortable, air-conditioned and heated enclosed cabin with a panoramic window, almost 250 m2 in size, built without a single intermediate support. The buffet was also set up here. Thanks to the spacious and connected interior, it is also suitable for conferences, presentations, performances and weddings, depending on the different seating methods.
Thanks to its technical equipment, it has sound and visual techniques, which are essential tools for professional conferences, presentations and discussions. Wi-Fi Service is also available on board. A special restroom has been set up on board for the disabled.
The color scheme of the interior of the ship is defined by the pastel green upholstery and the dark blue carpet. The modestly elegant design offers the opportunity to hold conferences, trainings, hospitality, catering and weddings, during which occassions the ship can become a unique venue for unforgettable events.
Ships most important data:
Passenger capacity: 550 people

Standing reception: 240 people

Seated reception: 180 people

Seated conference: 180 people

Buffet: on the lower and upper deck

Interior cabin on the main deck: 190 m2

Interior cabin on the walk deck: 30 m2

Maximum length: 41.50 m

Maximum width: 9.00 m
Available services on board:
Seated buffet reception

Cold - hot foods, salads, pastries, cakes

Full range of drinks

Organizing of musical and dance programs