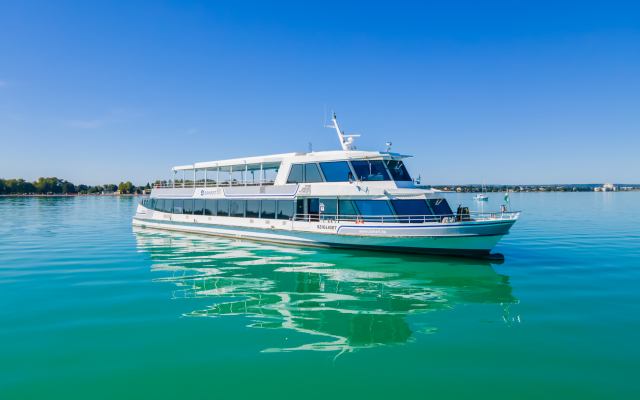 The in 2012 newly built ship, named "Szigliget", with a capacity of 300-passengers is the newest that runs on Lake Balaton. The construction of the ship, starting with the mechanical work, the design of the interiors and the installation of the electrical equipment were carried out by the staff of the Balaton Shipping Company.
A large, spacious, open, covered cabin was created on the upper deck of the ship.
On the lower deck there is a large, comfortable, 140 m2 air-conditioned and heated enclosed cabin with big panoramic windows, where a boat buffet is also available for our passengers. The color scheme of the ship's interiors is defined by dark blue and light gray, both for chairs and textiles. This world of colors evokes the traditional sailing and shipping on Lake Balaton, yet in a contemporary, modern form.
Thanks to its technical equipment, it has sound and visual techniques, which are essential tools for professional conferences, presentations and discussions. The ship has a modern hands-free speekerphone system, a handheld mobile microphone, a flat-screen TV. Wi-Fi Service is also available on board. 
Thanks to the modern design and spacious passenger compartment, it is also suitable for conferences, presentations, performances and weddings, depending on the different seating methods.
Ships most important data:
Passenger capacity: 300 people

Standing reception: 200 people

Seated reception: 130 people

Seated conference: 150 people

Buffet: in the interior

Interior cabin on the main deck: 140 m2

Maximum length: 40.40 m

Maximum width: 7.20 m
Available services on board:
Seated buffet reception

Cold - hot foods, salads, pastries, cakes

Full range of drinks

Organizing of musical and dance program