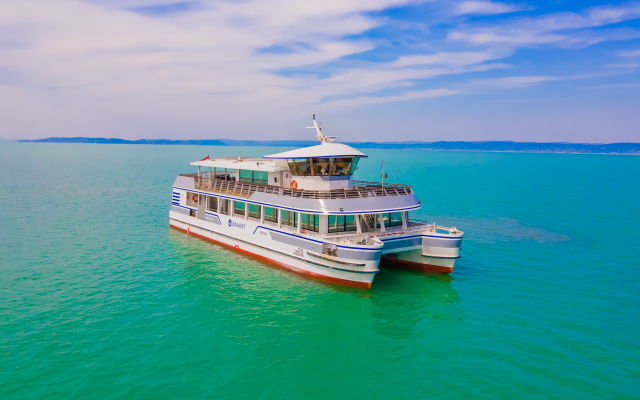 The catamaran-type, double-hulled vessel named "Siófok" was put back into service in 2016 after a complete overhaul by the Balaton Shipping Company. The renovation was characterized by a completely new concept: the walk-around possibility of the ship; interoperability of enclosed spaces; multi-directional accessibility of these spaces; streamlined external surfaces; rounded, curved lines, barrier-free accessibility; possibility for bicycle storage.
On the upper deck of the ship, a large, spacious, open, partially covered from above, and a smaller, closed, comfortable, air-conditioned cabin with panoramic windows have been designed. Here you will find the ship's modern buffet.
On the lower deck there is a large, comfortable, air-conditioned and heated enclosed cabin of almost 95 m2 with big panoramic windows. The color scheme of the ship's interiors is defined by beige, light brown, light gray, both for the chairs and the carpet. Thanks to its restrainedly elegant implementation and spacious passenger compartment, it is also suitable for conferences, presentations, caterings and weddings, depending on the various seating methods. The special feature of the interior are the glass cassettes placed on the floor, through which our passengers can also admire the blue-green water of Lake Balaton during a boat-trip.
We also wanted to complete the boat-trip experience for the disabled, which is why a wheelchair lift was installed, which made the upper deck accessible to our wheelchair user passengers. The Siófok catamaran was the first fully disabled-accessible ship on Lake Balaton, and a special restroom for the disabled was also built on board.
Thanks to its technical equipment, it has all the audio and visual techniques that are essential tools for professional conferences, presentations and discussions. The ship has a modern hands-free system and projector, two handheld mobile microphones, and a closed-circuit TV network. Wi-Fi Service is also available on board.
Ships most important data:
Passenger capacity: 500 people

Standing reception: 120 people

Seated reception: 80 people

Seated conference: 80 people

Buffet: on the upper deck

Interior cabin on the main deck: 95 m2

Interior cabin on the walk deck: 30 m2

Maximum length: 29.60 m

Maximum width: 10.30 m
Available services on board:
Seated buffet reception

Cold - hot foods, salads, pastries, cakes

Full range of drinks

Organizing of musical and dance programs